Bananas Foster Float Coffee
A medium roast, dessert flavored coffee, with flamed banana, cinnamon, brandy and brown sugar flavors. Read More
Inspired by the international favorite and New Orleans original, this is a triple-treat pleasure! Our signature Bananas Foster Float coffee combines 100% Arabica coffee beans with the iconic dessert flavors in a cup, minus the calories.
If you enjoy our Bananas Foster Float flavored coffee, our Roastmaster suggests you also try our German Chocolate Cake Coffee. A perfect after dinner treat!
We won't roast your bag of Boca Java coffee until after you order it, ensuring the freshest coffee possible. Each and every time!
A Little Bit More About This Coffee
Attributes:
Varietal:
Catura, Mundo Novo, Bourbon
Processing:
Blend of Wet/Dry
Altitude:
1400-1600 meters
Aroma:
Banana, Cinnamon, Brandy, Brown Sugar
Region:
Jinotega, Nicaragua, Cerrado, Brazil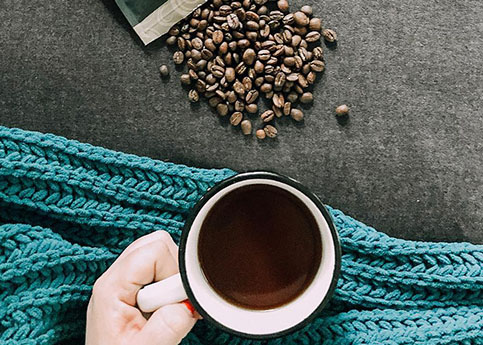 Top Selling flavor Roast Coffees
It's a great afternoon break coffee!
Coffee.GottaHavIt
Virginia
I consistently buy this flavor.
My extended family all like this flavor so I buy regularly.
Mcanalyst
Minnesota
I have bought this coffee since my son went into the Marines
I order a variety of flavors. I prefer the medium smooth sweeter flavors. This is my first choice to start consuming my order.
Joe the retired
Texas
I love this coffee, I have been with you guys for many many years now and was saddened to hear your factory burned. I am so happy you have found a place been praying for you all I love this coffee and everything you stand for!!
Tarase
Sumter, SC
Always terrific....love that we can order only. Easy website.
Kathleen
Locust Grove, VA
I would definitely but this coffee again.
Made a carafe in mornings
Bonnie
Cabot,Ar.
One of our favorite Boca Java flavors!
All of the individual flavors hit your taste buds at different times. This coffee tastes exactly like the dessert.
Jess D
Fargo, ND
I would buy this product again and again
Best coffee I have ever had.
Minnesota Bullmoose
Albert Lea, MN
Love this coffee
Aubrey
Virginia
Not a morning coffee for me but it is DELICIOUS
Esther
Bloomsburg PA
Awesome coffee! I used to drink these. Can only get in popsical form. I miss those days
Love the bananas!!!
Rohnert Park
Received for Christmas Gift
I don't have a grinder so I get the grounds. I have the K-Cup that you can do your own grounds in. We received this as a Christmas gift and reordered it.
Sooner Gal
Tulsa, OK
This I and always has been amazing!
LalaJo
Alaska
I use it in my Keurig
Rai
Harvey IL
Great Coffee with a Sweet Banana Surprise
I usually do a 12 cup. At night I'd like and espresso!
Phoenix
Holly Springs NC
I always order two its a great morning cup.
Boca Java is all I use.
Drgoofy
Atoka Oklahoma
Taste and aroma
Lockman
Celeste, Tx
This is the best coffee ever!!!!!!
This coffee is the perfect addition to my weekend breakfast!
Daughter in Law of the year
Grand Rapids MI
Drink this everyday
Rai
Harvey IL
Don't have accessories
Dbackbear
Phoenix,AZ
Bananas Foster is my favorite roast! The taste is subtle and does not taste "fake" like other flavored coffees. And the smell while it's brewing.... yum!! I buy this every month!
TanyaRN
PA
My family and I love this coffee. I mix it 2/3 banana to 1/3 regular. It comes out perfectly! It tatstes like a banana muffin in a cup. I'll definitely order more plus some decaf for in the evening.
Manina
Vancouver, WA
I love this coffee, and order it repeatedly!
I love this coffee and drink it every morning! It's been my go-to for almost two years. The only complaint I have with the company is that once I ordered 4 bags of decaf by mistake, and they would not give me a credit or return. :-(
Ronni
Florida
Our go to coffee now. We keep running out!
Sonja Marie
MA
I would buy this coffee again and again
Boca Java Flavored Coffees are very good! I hate when I run out!
Rae
Harrisburg, PA
No I do not own accessories.
DrGoofy
Atoka, Oklahoma
I love the smooth taste and pleasing aroma.
Diana
NE
Tastes just like Bananas Foster!
Great banana flavor with warm brown sugar. We will definitely buy again.
Coffee.GottaHavIt
Virginia
Drip coffee make I add a little white chocolate macadamia nut coffee creamer
JT Coffee
Rathdrum.Idaho
This was better than expected. Loved the flavor.
Rdbaron2
Rochester NY
I brew this in a standard drip coffee pot and the flavor/ fragrance are terrific. The blend gives the impression of bananas without chemical aftertastes and stays rather balanced without becoming acidic.
Jamie
Boston, MA
This is awesome, smells so good!!
Liz
Moore, OK
Use the coffee in morning and afternoon
Geno
Youngstown, OH
I use it in a single use pod.
Pamela
Glenmoore, PA
This smells so yummy as it's brewing and with a touch of milk, it tastes as good as it smells.
Betsy
Schoharie, NY
My parents bought Boca java when I was living at home and that's when I grew an appreciation for coffee. Now its really hard for me to just get regular coffee from the grocery store. Then I managed a coffee shop for several years where we had our own fresh blend, and nothing else compared to Boca java. This flavor in particular has always been a family favorite.
Cara the giver
Brownwood
The Bananas Foster Float is a dessert in a cup! It has such a wonderful aroma when it is brewing and even better when drinking it. Love this one!!!!
Darron
Oregon
My new favorite coffee. I like this flavor and use No sugar
It's my morning cup (or two) of coffee now for a month. I like the stuff!
N/A
Penn Valley, CA
I would buy this product again
This flavor is not the usual. I enjoyed the taste and it smells fantastic!
Coffee all day long!
Denver, CO
Love the banana flavor
Hh
Utah
My favorite coffee of all time
I'd you even just don't despise bananas, you will love this. You don't have to be a big fan - just don't despise them. This coffee is smooth and tastes fantastic, smells outstanding throughout the house. This is truly my favorite single coffee ever. And I like a LOT of coffees!
Kev
Oklahoma City
I plan on buying this again
I use an automatic drip so I can't say for sure how this would taste with any other coffee maker. But I can't imagine it ever tasting bad. This has a wonderful aroma and a unique flavor. This will be my special occasion/I'm feeling fancy coffee.
Gina
Wisconsin
its really tasty
yoli
CO - Colorado
This is my favorite flavor I've tried so far!!
Brooke
Maine
Our favorite flavor!!
Mama
Florida
I have been a subscriber for a while now and I try new flavors every shipment, so far it's been great. I have yet to receive a flavor that wasn't really good. This shipment I tried the bananas foster flavor and I've got to say it's EXCEPTIONAL this is simply the best flavored coffee I've ever tasted. I will be certain to add this to every shipment from now on, it's that good.
Greycelchelle
Brooklyn,NY
I will buy this coffee FOREVER
I like bananas so I figured I would give this coffee a try. When I first got it, I wasn't thrilled. Once I figured out the water/coffee ratio the flavor of his coffee blew me away!!! I was also trying to put too much creamer into this coffee. I do a little bit of milk and a little sugar and the flavor is amplified! It's a naturally sweet coffee, like a dessert coffee but I like my coffee sweet so it's a perfect every morning cup or two or five for me!
Jodi
Colorado
Amazingly the best flavor
I usually drink this first thing in the morning. Sometimes I blend the beans with another to give it a crazy full flavor and good kick of caffeine. I normally add sugar and milk. But when I have this it is straight black and wow everyone I make it for which so far around 40 people. Love it and say the same drink it black and hot.
Crazy Charley
Hawaii
Excellent coffee, even non-coffee drinkers like it!
Shannon
Johnson city, TX
Bananas Foster Float Coffee
92.9